Weekly BoD package (Normal+Heroic run and mythic+10) – Boost
⚠⚠⚠ This offer is outdated and no longer available ⚠⚠⚠
Dear Friend! On this page you can buy Weekly BoD package (Normal+Heroic run and mythic+10) – Boost!
Weekly BoD package (Normal+Heroic run and mythic+10) – Boost includes:
Usually, your boost starts within a few hours of the order being placed. To get the exact time of handling, we recommend contacting our support (Immediate response guaranteed during the normal working hours).
Timeline for completion of Weekly BoD package (Normal+Heroic run and mythic+10) – Boost: 2h per BoD runs and approx 40-50 min for Mythic+10 run.
This boost is available with the option of self-play. Enjoy the game, participate in the boost, and take charge in the Battle for Azeroth. (Familiarize yourself with terms and timelines of our boosts. Self-play users must be present at their PC for the duration of the boost).
This boost is available with the piloted option (account sharing). We understand you have plenty to do during your day. Save time and money by letting one of our experienced professionals pilot your character for the duration of the order. Enjoy your time and will take care of the grind. Account security and protection are guaranteed (for details see guarantee).
Here is what we guarantee:
Completion of every order by seasoned and professional players. We have more than five years of boosting experience.
Live contact for every order from our support team.
Most competitive prices on the market.
Unique and personalized approach to every customer.
Full satisfaction or your money back
Security and confidentiality of your personal information.
Manual completion of every order without bots, bugs, or hacks. We act with absolute integrity to promote honest play in the gaming community.
Complete anonymity of all customers. Our boosters will use "Appear Offline" mode in your Batlle.net for completion of the order. Furthermore, we will never chat in-game using your account.
Availability of live stream for orders with piloted option (except for long-term orders) upon request.
Secure connection with the best VPN Servers for piloted options
For any details, questions, or concerns contact our support via chat-box or any other of the available methods from our contacts. We will gladly answer any questions you may have.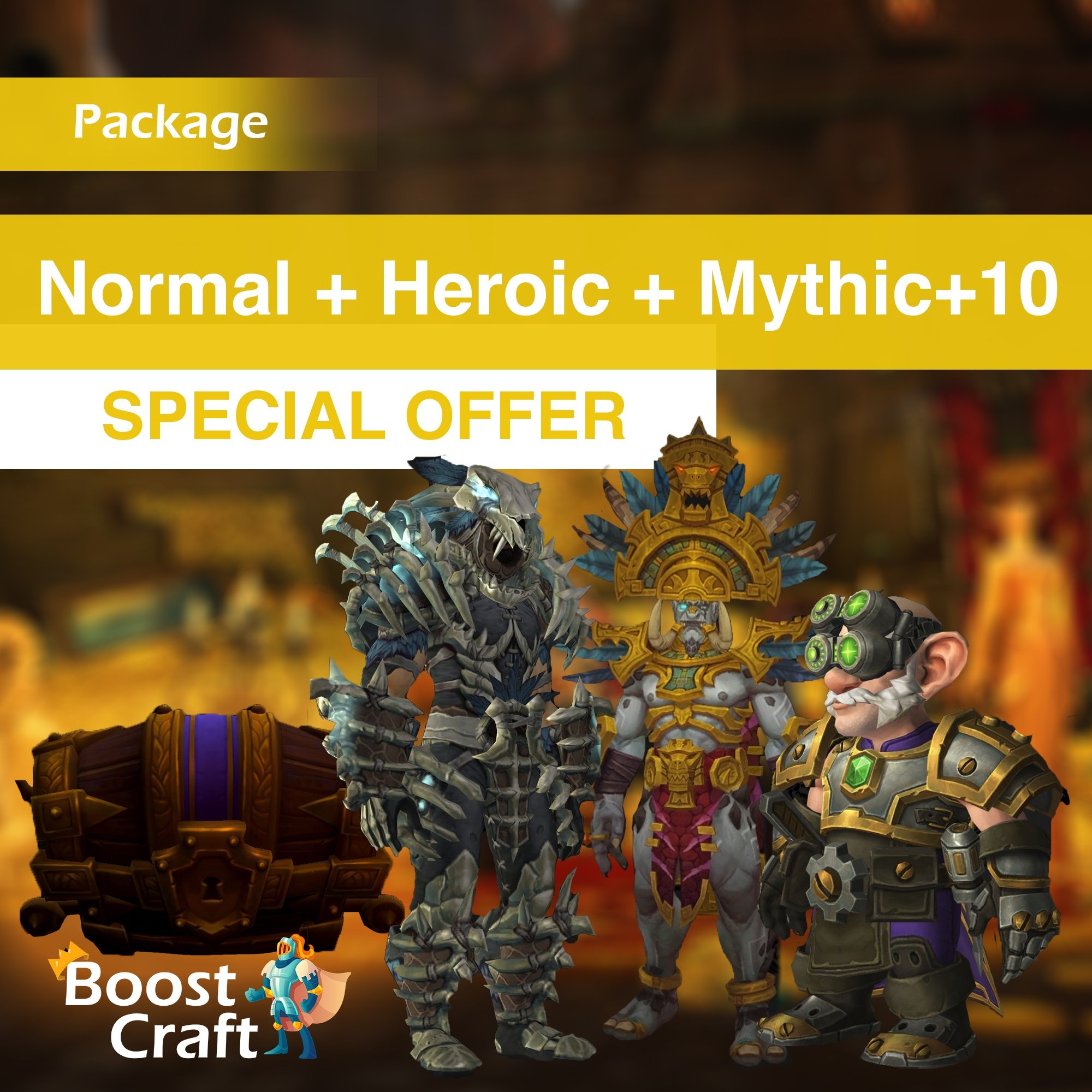 ⚠ This offer is outdated and no longer available ⚠
Four Easy Boosting Steps
1.Make your choice
2.Select additional options
3.Add items to cart and finish payment
4.Contact us and get your boost
100% Protection
24/7 Support
Easy Refund
Fast
Discounts and Gifs
Weekly BoD package (Normal+Heroic run and mythic+10) – Boost
Fast & easy boosting steps

1
CHOOSE THE SERVICE
Choose the service you would like to order. Please contact us via website chat in case you need any additional information about the service.
2
ADD TO CART
Add services which you would like to order in to shopping cart and check if all correct. You can add an unlimited number of services to one shopping cart for order them once.
3
COMPLETE THE PAYMENT
Follow the checkout page and complete your payment by choosing a convenient payment method. The payment process and your personal data are 100% protected according to Security & Privacy policies of payment provider.
4
BE BOOSTED
Once your payment went through, our Customer Support will contact you via Discord, Skype or E-mail to organise your boost